Washington, D.C. area art photographer J Riley Stewart specializes in creating original Limited Edition large photographic art, perfect for personalizing expansive wall spaces in entryways, over the couch, headboard, or fireplace, or anywhere you need interest or intrigue.
Scenes in his portfolio come from the most romantic places in the U.S. and Europe. Among our favorites are the U.S. National Parks, the Rocky Mountains, the Carolina Lowcountry, and the American Piedmont. Complementing his landscapes are his many nostalic still-lifes of historical artifacts and street scenes.
Read what collectors are saying about his work.
Read a featured article about J Riley Stewart's work in Elan Magazine, the premier art magazine in the mid-Atlantic area of the USA. (Click the image below to read the full article.)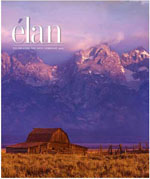 "In today's stress-filled world, it is comforting to take a moment and lose yourself in Stewart's captured visions. His photographs are soothing, serene and tranquil settings that invite the eyes to come in and rest awhile. Yet there is an intriguing mystery. What is behind the door? Where does that path lead? What is around that bend?"..Elan Magazine