Washington, D.C. area art photographer J. Riley Stewart uses larger format film cameras and his creative talent to make original large-scale photographic art, perfect for personalizing expansive wall spaces in entryways, conference rooms, living spaces, or anywhere you need interest or intrigue.
Decorated with an exquisite J. Riley Stewart fine art photograph, these spaces are transformed into romantic destinations full of light, shadow, and story. A story of a family forced by circumstance to abandon their home in the harsh Rocky Mountains. Or a story about the solace in sitting beside a glass-smooth pond and watching a swan meander. Or standing in quiet contemplation among centuries-old ruins where thousands before you once lived, worshipped, and told their own stories.
His scenes come from the most serene places in the U.S. and Europe, including projects that explore the moodiness of Scottish and German castles, contemplative pastorals and nature scenes from the American Piedmont and Appalachia, inspiring presence of grand old trees in the tidal Carolinas, and majestic mountain landscapes from the American West.
Follow art photographer J. Riley Stewart here and he'll share with you the stories and images he encounters from "under the cloth." Once or twice a month he publishes short stories about his travels, scenes he experiences, and how he interprets life around him.
Read what collectors are saying about his work.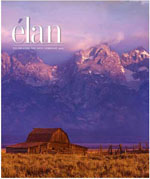 "In today's stress-filled world, it is comforting to take a moment and lose yourself in Stewart's captured visions. His photographs are soothing, serene and tranquil settings that invite the eyes to come in and rest awhile. Yet, there is an intriguing mystery"..Elan Magazine